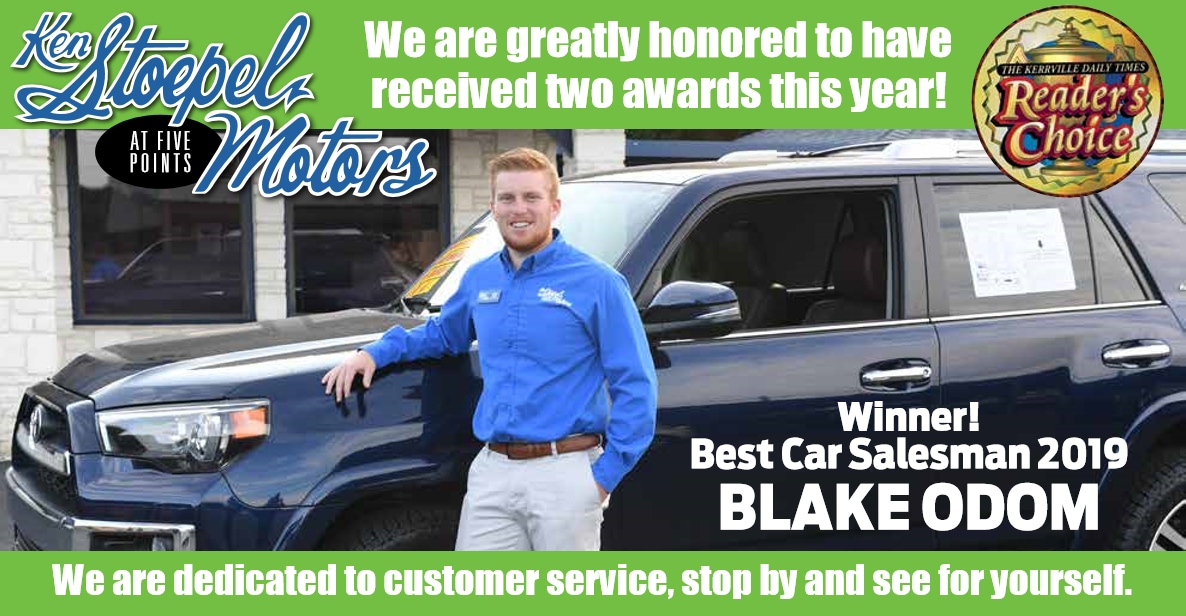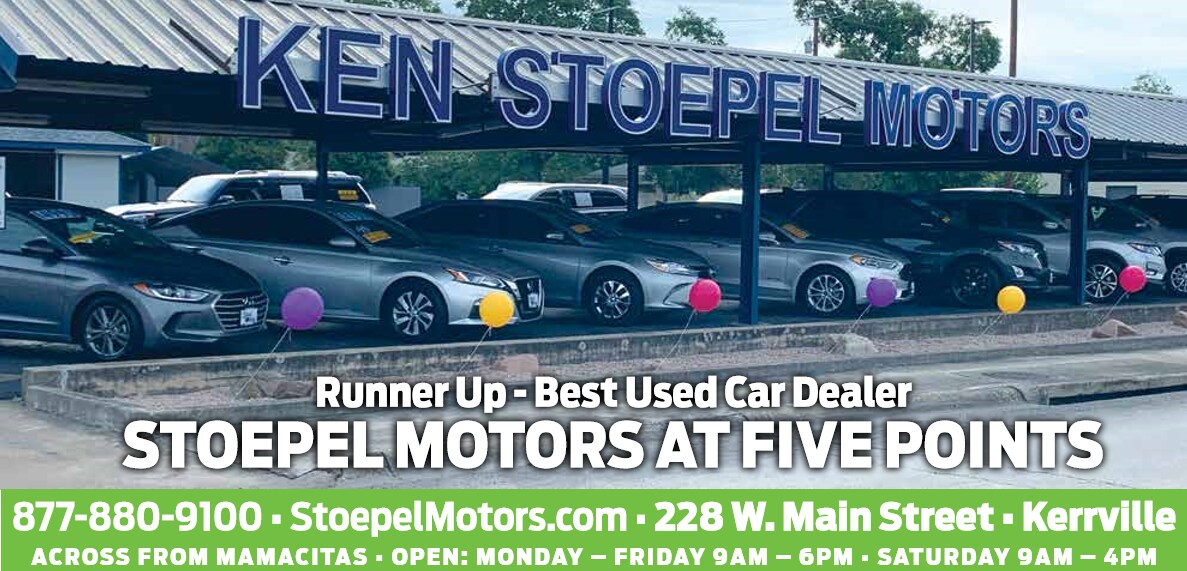 Driven by customer service 
2019's Best Car Salesman says he loves taking care of his customers
Blake Odom is thrilled to be named the Best Car Salesman of the Year in the 2019 Kerrville Daily Times Reader's Choice Awards.
"I'm so honored and want to thank everyone who supported me, voted for me and encouraged others to vote," he said. You can usually find Odom on the job at Ken Stoepel Motors at the Five Points location, 228 W. Main St., across from Mamacita's. This location is small compared to the main Ken Stoepel Ford location at 400 Sidney Baker South, but it can hold 40 used cars, trucks and SUVs, and the inventory is constantly changing. Odom has been with the company since February, but he has been selling vehicles for more than five years.For a young man, he has accomplished a great deal in his 24 years. Born in Corpus Christi and raised in Kerrville, this Tivy grad is a true believer that Kerrville is a great place to live and has made it home for himself, his wife, Tanner, and their three young children.
AUTO SALES AS A CAREER 
As to how he got into auto salesmanship, he credits his dad, Todd Odom, for igniting in him an interest in cars and how to sell them. Blake Odom said he enjoys his work and sees a career in auto sales as fulfilling and with opportunities for growth. He said he basically handles customer transactions from start to finish, including processing credit applications, determining the budget and discussing finance options. Odom makes it look easy to buy a vehicle, and for his clients, it is. "I've received good training from many good people," Odom said. "And I try to use those skills to satisfy my customers. I am grateful for the many referrals I receive and for the many people who are return customers. Since I've been selling, I've had several people who have purchased multiple cars from me."  When asked if he's a Ford user himself, he laughed.  "Absolutely," he said. "I drive a Ford-150, and my wife drives an Expedition. We are very satisfied with both." His Dad, Todd Odom, is the manager of the Five Points location and happened to be working the day of our interview. He is understandably proud of his son and the award he has won. "Blake is an outstanding young man," the elder Odom said. "Myself and the Stoepel family have 100 percent confidence in him."
THE COMPANY 
Ken Stoepel Ford receives high marks from Blake Odom.  "They care about their customers, and they care about their employees. These are reasons why they have such a loyal client base," Odom said. "People drive in from Odessa, San Antonio and all around the Hill Country because of  the company's excellent reputation."
THE WINNER 
When asked his opinion of why this year's award went to him, Odom paused before answering.  "I like to meet people and form a relationship, and that helps me succeed in this business," he said. "I want people to know that I listen to their needs and treat them right."  To sum it up, he adds with a grin, "I love taking care of my customers."